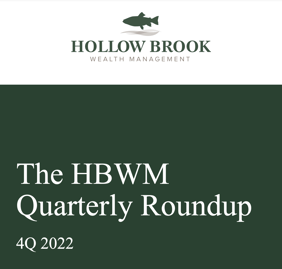 2022 was the worst year for almost all financial assets for decades. A truly global dynamic, central banks around the world raised interest rates to quell inflation. Despite markets' numerous attempts at rallies these rate increases determined outcomes for the full year.



At Hollow Brook we help each of our clients integrate their estate plan into their long-term financial plan and investment strategy. While estate plans may change over time, we take a long term and holistic approach to managing multi-generational assets. This management style has allowed us to maximize the impact of our client's dollars and see the value of their wealth multiplied over generations. If you have questions about how to better structure your estate, please reach out to us as we welcome the conversation.




Interested in how we can help?

Disclaimer: Information provided is for educational purposes only. HBWM does not provide tax, legal, compliance, or accounting advice. In considering this material, you should discuss your individual circumstances with professionals in those areas before making any decisions. Further, HBWM makes no warranties with regard to such information, or a result obtained by its use, and disclaims any liability arising out of your use of, or any tax position taken in reliance on, such information.